The UC Riverside campus may be mostly empty, but the work of keeping it secure continues.
Since the Riverside County stay-at-home order went into effect March 13, UC Riverside police, Environmental Health & Safety, and Facilities Services have been among the departments with staff working on campus performing critical duties.
"Over the past few weeks, I have had many occasions to say that the health and safety of the entire UC Riverside community are our top priority, guiding every decision we make," Chancellor Kim A. Wilcox said. "On campus, the Police Department, Facilities Services, and Environmental Health & Safety teams show their commitment to this principle each day. To borrow a term from Gov. Newsom, these groups have shown up to 'meet the moment.'"
Police officers and dispatchers are still working regular shifts with personnel on duty 24/7. Officers have focused their patrols on the interior of campus, said Assistant Police Chief John Freese.
"We endeavor to provide high police visibility to deter crime while our campus resources are vulnerable during this time of significantly decreased human presence," Freese said.
Officers have been provided training and personal protective equipment to deal with the potential exposure to the coronavirus when responding to a call. They've also implemented social distancing rules for shift briefings and no longer have officers ride together in the same patrol car, Freese said.
On a recent morning, police Officer Brandon Anderson patrolled an empty campus, comparing the quiet to winter break or a holiday.
"It's a little eerie," he said. "It's different."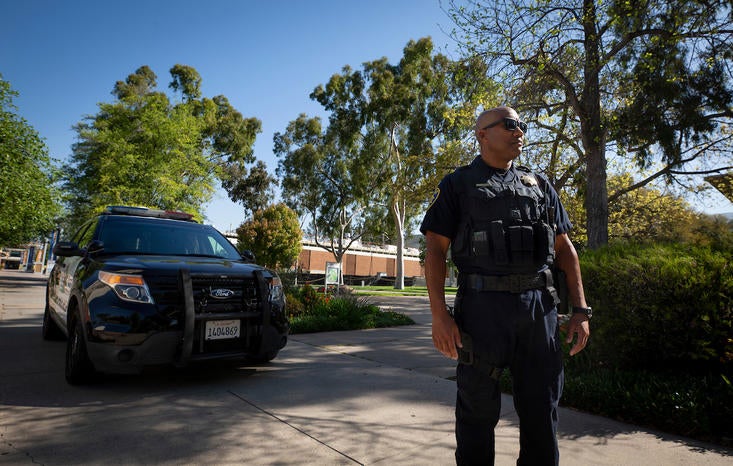 EH&S has been at the forefront of the campus response to COVID-19 since late January when news of its spread grew more serious, and the department began posting advisories on its website. The EH&S website has since become the central hub for all COVID-19 campus updates. 
Campus emergency management and health officials also began holding regular meetings to discuss preparedness and response, said Sheila Hedayati, executive director of EH&S.
They used those morning huddles to stay updated on the latest scientific data and discuss safety measures to minimize the campus exposure, she said.
The department's role includes developing safe operating procedures for different campus groups and departments. As they learned more about COVID-19, EH&S has helped put together training and procedures, especially for departments whose responsibilities involve greater public interaction such as police, housing, dining, and facilities, Hedayati said.
Procedures have been constantly updated as new information and new directives from local, state, and federal agencies have been released, she said. For instance, when Riverside County recommended people wear face coverings in public, EH&S immediately put together procedures for on-site campus employees and a process for distributing masks to them, Hedayati said.
The department has also been responsible for maintaining and providing personal protective equipment, including an emergency stockpile of N95 masks for health care workers and police officers. 
EH&S staff members are also continuing their many regular duties, making sure campus laboratories remain in compliance with health and safety regulations by collecting any hazardous or biological waste that needs to be removed and monitoring lab spaces to ensure no hazardous conditions arise during the ramp-down period where personnel may not be routinely in lab spaces.
 "I'm incredibly proud of the EH&S staff that are working around the clock to make sure the campus is working and collaborating, not only to manage and support the COVID-19 response, but also continuing to serve in their day-to-day functions to ensure the health and safety of our community," Hedayati said.
Facilities Services has reduced its on-campus staff since the stay at home order, but it also has some employees who continue to perform necessary work.
Those include limited custodial staff cleaning restrooms and common areas in buildings used for essential functions. Landscapers also mow lawns every other week.
As part of its cleaning process, Custodial Services is using a chemical disinfectant recommended by EH&S that is on the Centers for Disease Control and Prevention list of approved products.
Facilities Services is also working to conserve energy during the campus closure, identifying buildings with low occupancy and reducing temperature controls.
"One of our main priorities during the campus closure is to effectively manage our buildings and infrastructure by further minimizing energy consumption and reducing utility costs," said David Palacios, director of energy and engineering and the campus energy manager. "We feel that this is a great opportunity to maximize on our efficiency and sustainability practices for the university while providing safe, reliable, and efficient utility services."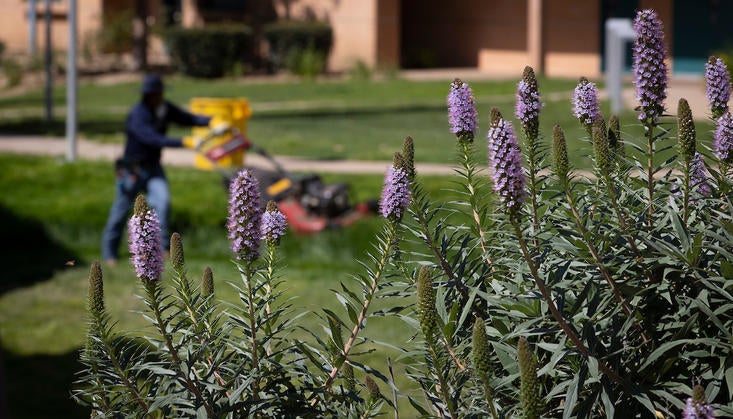 This article was originally posted on Inside UCR. To see the original article, click here.